Digital Asset Management (DAM) consulting services
Services provided remotely or in-house to help companies manage an ever increasing volume of digital visual assets.
---
Web content projects.
Marketing websites can include hundreds, or even thousands, of photographs and videos. It takes a lot of time and resources to simply find all that content, not to mention selecting assets that align with brand standards, cropping, retouching and optimizing for the web, and then keeping track of everything to ensure each piece of content finds it's correct place.
Bringing in an experienced web content project manager will alleviate the workload and ensure your site launches on time and on brand.
Recent web projects include:
www.keepexploring.ca for the Canadian Tourism Commission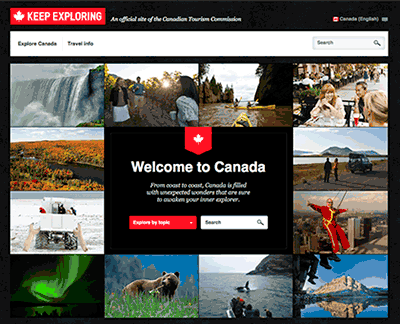 www.hellobc.com for Destination British Columbia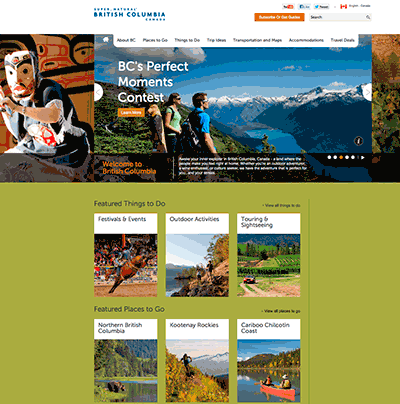 www.travelalberta.com for Travel Alberta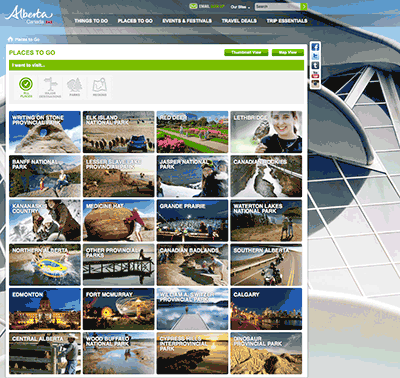 DAM system architecture.
This refers to the process of designing and building a DAM solution from scratch, which may include:
assessment of existing systems and workflows
consultation with multiple in-house teams
writing Request for Proposals (RFP) documents
evaluation of vendor submissions
taxonomy creation (defining categories, metadata fields, tags, etc.)
migration strategy for existing assets
extensive communication between vendors and stakeholders in order to customize and implement the best DAM solution.
DAM system maintenance.
Need help to keep on top of cataloging an endless stream of new photoshoots? Want to clean up all that old metadata that came in from the old system?
System maintenance services include: asset ingestion, cataloging, keywording, duplicate search & removal, general system clean-ups and just about anything else that no-one has the time to do.
What is a DAM system anyways?
A Digital Asset Management (DAM) system is a combination of software, hardware, protocols and workflows that facilitates the storage, cataloging, retrieval, and repurposing of digital assets. Digital assets are not only photographs – they include text, audio files, maps, illustrations, video and more. A DAM system serves as the main repository and system of record of these valuable assets.
Why do you need a DAM system?
As companies become more reliant on digital content to feed numerous revenue streams, more and more resources are put into digital asset creation. But what good are a bunch of files if you can't find them? It's only logical to safeguard that investment with a reliable DAM system. Check out this article from the good folks at Another DAM Blog for a humorous list of reasons you need a DAM.
Why hire a DAM consultant?
Because you're busy. And your employees are busy too. The complicated business of setting up a DAM system is often far too much on top of an already hectic workload. Hiring an experienced and dedicated DAM contractor can ensure that the project gets done right, on schedule and on budget. An independent contractor also serves as a translator between client articulated requirements and vendor capability techie-speak.
---
What clients are saying …
"Sian's brand recognition, photographic insight and understanding of advanced creative and CMS software has made her an invaluable asset to our content initiatives. Professional, informed and self-reliant, I'll happily work with Sian again and confidently recommend her services. She's a star."

– Jane Burgess, Brand Content Manager
Canadian Tourism Commission (CTC)
"I had the pleasure of working with Sian as a key player in Travel Alberta's digital asset management strategy and implementation plan. Sian added her insight and experience resulting in a project that met and exceeded organizational expectations. Thanks Sian, for a job very well done."

– Royce Chwin, Vice President Global Marketing and Communications
Travel Alberta
"Sian's work for the CTC has been instrumental to our success. She has the ability to quickly understand what we need and deliver a superior product. Our long lists of metadata and detailed brand requirements are easily handled by her attention to detail and eye for design."

– Adam Brownfield, Digital Asset Management Officer
Canadian Tourism Commission (CTC)
"Sian has provided services such as naming, editing, captioning and uploading photos and footage on Destination BC's DAM system. Her work is always complete, accurate and on-time."

– Jackie Steel, Marketing Communications Coordinator
Destination British Columbia
---
What else?
•    Brand-aligned creative evaluation of photography submissions
•    Photoshop retouching, resizing, optimizing for web
•    Content search and acquisition from industry partners
•    Captioning, alt tags, and SEO optimization
•    Taxonomy, category structures, keyword development
If you want to make the most of your visual content, Sian has the technical & creative skills to help.
No project is too big or too small and if you need to create visual content, well, Sian can do that too!
Contact Sian with your project ideas.
---